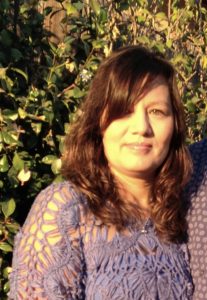 Agnes Ann Green Distinguished
Service Award Dinner
Honoring
Veronica Jaramillo

December 4, 2019

Monterey Hills Restaurant


3500 W. Ramona Boulevard
Monterey Park, CA 91754

6:00 pm check-in
7:00 pm dinner
8:00 pm presentation
We are pleased to honor Veronica Jaramillo with the Agnes Ann Green Award for Distinguished Service to the Section. Please join us in recognizing Veronica and her efforts on behalf of the Section. We are also honoring Michael Morgan, the 2020 James Bryand Conant award winner, as well as our 2019 Fellow, Brian Brady.
Reservations: There is a choice of 2 entrees: Roast half chicken with tequila lime sauce or King Salmon with buerre blanc. The cost is $36 including tax and tip. Please email Nancy Paradiso in the Section Office at office@scalacs.org by Thursday, November 21st if you'd like to attend. Please include your choice of entrée.
Directions: A map and directions are available at the restaurant's website, https://www.montereyhillrestaurant.com/.
Biography: Veronica exemplifies the level of outstanding and sustained service and commitment to our local ACS section that this award was designed to honor. She joined the ACS in 1997 during her graduate school years at the University of Arizona and contributed to the ACS by presenting at local and national meetings and helping the undergraduate student chapter with their activities including doing outreach to local elementary schools. She really fell in love with this aspect of the ACS – to communicate chemistry to the community.
Since 2006, she has been an advisor to two ACS student affiliate chapters, at East Los Angeles College (ELAC) and Pasadena City College. Her Chemistry Clubs have been active in promoting chemistry on campus, at local elementary schools and in the community. For their work, they have been regularly recognized by the ACS with Outstanding and Commendable Awards.
In 2011 she was elected to the SCALACS executive committee. She also was part of the 2011 Western Regional Meeting steering committee and, along with the ELAC student chapter planned the undergraduate portion. Their theme was "Discover your Chemical Pathway!" and they had a unique career-focused "speed dating" event that allowed students to speak informally to chemists from academia, industry, and government. This event was a finalist for an ACS ChemLuminary award and has been replicated at national meetings. She was awarded a Salutes to Excellence Award by SCALACS for this programming.
In 2012, she became the chair of the Women Chemists Committee and arranged dinner meetings, arranged women chemists panels and helped at science outreach events. In 2013, she was elected as Chair of SCALACS. During her tenure as chair she hosted dinner meetings across the local section and on campuses to further expand the reach of the section. In 2016, she was elected as an Alternate Councilor and has represented the section at Council and learned more about the governance structure of ACS.
Veronica's arc of local section involvement is exemplary and sets the bar for our future leaders. She has been helpful and engaged since the beginning of this involvement with local section leadership, has risen to the challenges of increased responsibility, and has contributed in ways that have been of great benefit to the Southern California Section of the American Chemical Society.