_______________________________________________________________________
_______________________________________________________________________
Registration for the 2024 HIGH SCHOOL CHEMISTRY OLYMPIAD EXAM is now open.
_______________________________________________________________________
INTERNATIONAL HIGH SCHOOL STUDENTS RESEARCH SYMPOSIUM

The event has concluded.

CLICK HERE FOR EVENT RECAP AND SCREENSHOTS.
_______________________________________________________________________
HIGH SCHOOL CHEMISTRY TEACHERS' MEETING
CLICK HERE FOR EVENT RECAP AND PHOTOS
_______________________________________________________________________
Thank you to our speakers and all who attended this NCW virtual seminar.
CLICK HERE FOR PROF. WILLIAMS'S BIO AND HIS DETAILED PRESENTATION ABSTRACT HERE.
CLICK HERE FOR MS. SAXENA'S BIO AND HER DETAILED PRESENTATION ABSTRACT HERE.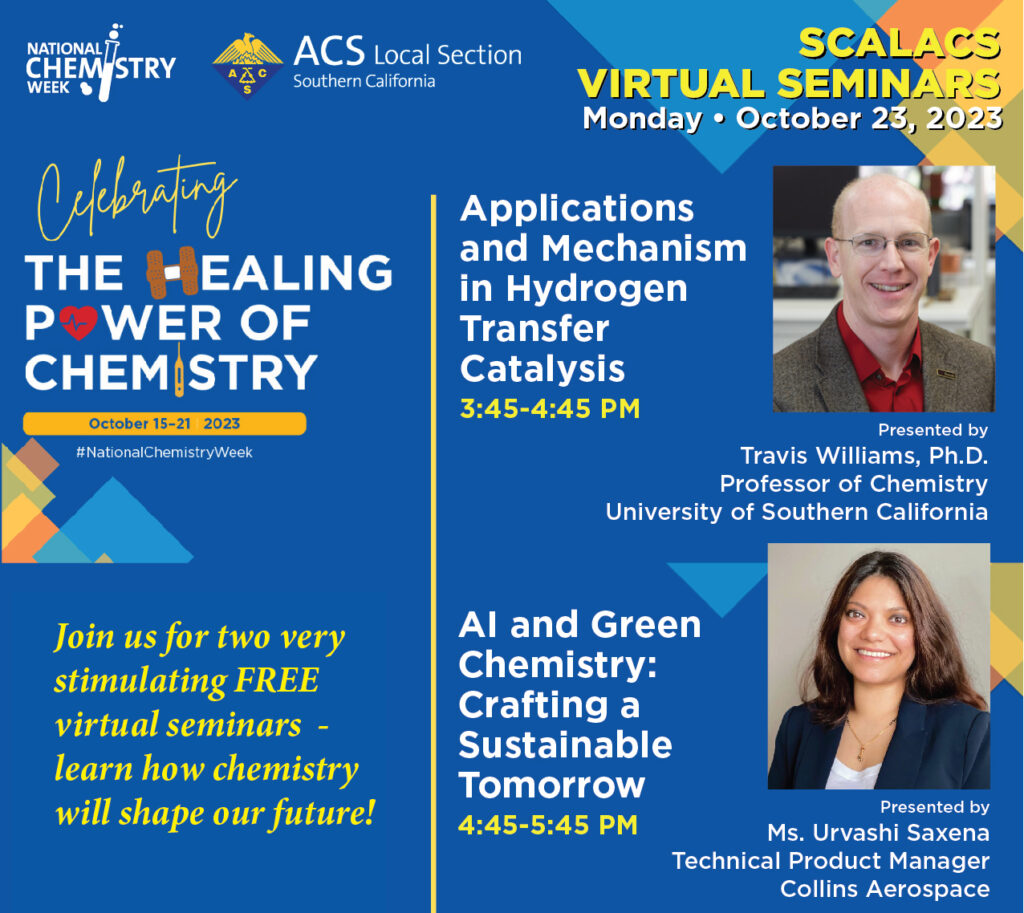 _______________________________________________________________________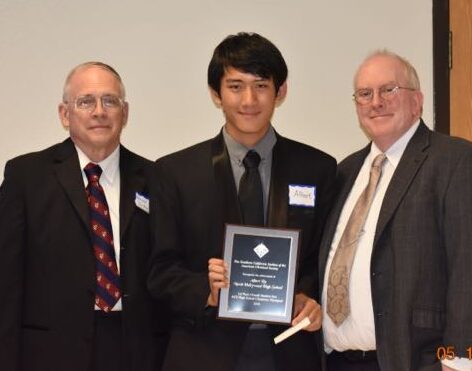 This is the website of the Southern California Section of the American Chemical Society. Throughout the year, we have lots of activities posted on this website (see the Upcoming Events Tab for upcoming events!) and also printed in our monthly magazine, SCALACS. Please browse our website and see the kinds of events we have for chemists from all walks of life – from academia to industrial chemists.
We have events each month throughout the academic year where you can hobnob with other chemists (dinner meetings, interesting speakers, tours, and pizza nights are some of the fare!). Students can attend dinner meetings for half the published price with a valid ID. If you would like to hear the speaker at a dinner meeting without attending the dinner, just let the section office (310 327-1216 or office-at-scalacs-dot-org) know so we can reserve you a seat.
We also have great outreach programs to share chemistry with upcoming students such as National Chemistry Week, Chemists Celebrate Earth Day, and the High School Olympiad (that's our 2018 Olympiad National Team Finalist, pictured above with Dr. Gerald Delker, our Olympiad Chair, and Michael Morgan, our Education Chair). We're always looking for volunteers to help with these important programs. If you'd like to volunteer, contact the Section Office (see above).
Members are also invited to attend our Executive Committee Meetings. This is a great way to see our Section governance in action! The Executive Committee Meetings are held the first Wednesday of each month September through May at 7:30 p.m. The meetings are held via videoconference. Please contact the section office to make arrangements to be a guest at an Executive Committee meeting.
If you're interested in running for office on the Executive Committee, please see this link about what each position on the Committee does. Each year, we have elections for Chair-Elect, Secretary/Treasurer, Members-at-Large, and Councilors. Participating in Section governance hones great leadership skills, and is a great opportunity to network with other chemists and promote chemistry.
We hope to see you soon at an upcoming meeting or volunteering at an outreach event!