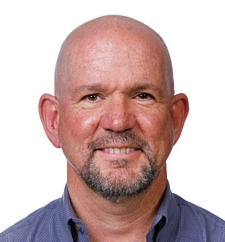 Dr. Brian Brady
Recipient of the 2017 Agnes Ann Green Distinguished Service Award
Brian Brady is Senior Scientist at the Aerospace Corporation in the Propulsion Science Department. He uses his background in Physical Chemistry to provide technical authority and leadership in conducting studies on chemical kinetic measurement and modeling, and to conduct propulsion-related anomaly investigations. When he is not volunteering for the American Chemical Society, he volunteers as a Tae Kwon Do instructor.
Brian Brady began serving our Southern California Local ACS Section as Elected Member in 2009. During that tenure, he served on the Nominations and Elections committee, recruiting new people to serve in section governance. Of particular importance to our local section is the sustained role Brian played for five years in a row (2012-2016) as the Chair of our Nominations and Elections Committee. Brian handled this responsibility methodically and thoughtfully, recruiting new people to serve as Executive Committee members, and convincing seasoned people to take their turn at our helm as Chair. This is a particularly difficult task and the fact that he stayed with it for five cycles in a row speaks volumes to Brian's commitment to the success of our local ACS section.
By the end of his Executive Committee term in 2011, Brian agreed to be a candidate for Chair of our local section. As Chair in 2013, Brian provided a full and robust program that served not only our fellow ACS members, but also the broader community. On Brian's watch, we ratified our new section by-laws, enjoyed six dinner meetings with fascinating speakers, carried on our outreach traditions for high school chemistry students and undergraduate researchers, and expanded our social media activity to Facebook and Twitter.
In 2014, Brian ran for Councilor of our Southern California Local ACS Section. He is now in the final year of his 2015-2017 term as Councilor and will run again for another term in this coming election. Brian represents our local section at the Council meetings at the ACS National Meetings. He currently serves on the Constitution & Bylaws Committee, and as Secretary to the Western Regional Councilor's Caucus.
Brian's arc of local section involvement is exemplary and sets the bar for our future leaders. He has been helpful and engaged since the beginning of his involvement with local section leadership, has risen to the challenges of increased responsibility, and has contributed in ways that have been of great benefit to the Southern California Section of the American Chemical Society. For all this, we congratulate Brian Brady as the recipient of the 2017 Agnes Ann Green Distinguished Service Award.
            Barbara Belmont, Nominator

********
Agnes Ann Green Distinguished Service Award Dinner Honoring
Brian Brady

Wednesday, December 6, 2017

Paradise LA Restaurant


889 W. 190th Street
Los Angeles, CA 90248

Check-in: 6:00 p.m.
Dinner: 7:00 p.m.
Presentation: 8:00 p.m.
We are pleased to honor Brian Brady with the Agnes Ann Green Award for Distinguished Service to the Section. Brian exemplifies the level of outstanding and sustained service and commitment to our local ACS section that this award was designed to honor. Please join us in recognizing Brian and his efforts on behalf of the Section.
Biographical note: Brian Brady received his BA in Chemistry from the University of Pennsylvania and his Ph.D. in Chemistry from Columbia University. He is a Sr. Scientist in the Space Materials Lab of the Propulsion Science Department at The Aerospace Corporation.
Reservations: There is a choice of 3 entrees, all include salad: Grilled Mahi-Mahi with papaya salsa, Pot Roast with mashed potatoes, vegetables and gravy or Mediterranean Chicken with tomatoes, capers, Kalamata olives and rice pilaf. The cost is $31 including tax and tip. Please email Nancy Paradiso in the Section Office at office@scalacs.org or call 310 327-1216 by Wednesday, November 22nd if you'd like to attend. Please include your choice of entrée.
Directions: Paradise LA is located between the 110 and 405 freeways on 190th Street. If you click on the map from their website, http://paradisedine.com/#contact, it will take you to google maps for directions.