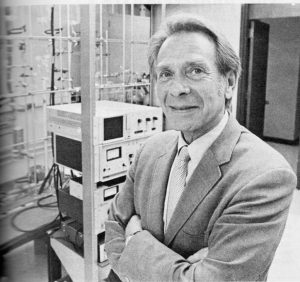 1977 Richard C. Tolman Award Recipient
Sidney W. Benson
University of Southern California
Dr. Benson is a native of New York. He received his Ph.D. degree from G. B. Kistiakowsky at Harvard and subsequently held an instructorship at CCNY. Dr. Benson also served with distinction as a Research Group Leader in the Manhattan Project before coming to the University of Southern California in 1944. There he started most of the research for which he is now recognized and rose to the rank of full professor. In 1964 he moved to the Stanford Research Institute to create and head a Department of Kinetics and Thermochemistry. In February 1976, he returned to USC.
Dr. Benson has been a prime mover in the fusion of chemical kinetics and chemical thermodynamics into a new field recognized under the title of "Thermochemical Kinetics". At the request of industry and engineering groups, he has given successive summer courses in this subject at Stanford University (1966-1974). In 1975 he presented a series of lectures a the Lawrence Livermore Laboratory, University of California which is now available in TV cassette form through UC Berkeley. In 1968 he founded the International Journal of Chemical Kinetics and has acted as Editor-in-Chief ever since. Dr. Benson has had an active career in public service including as an advisor to numerous government agencies. He has served three years as a member of the Science Advisory Panel to the Air Resources Board of the State of California and has also been active in the American Chemical Society as a member of the Physical Chemistry Section Executive Committee for five years and as Chairman-Elect and Chairman for two years.
During all the early years at USC and since returning, Dr. Benson has been extremely active in the teaching program, particularly in freshman chemistry. The book, "Chemical Calculations" published in 1952 was a pioneering text in this are. In its third edition, it is still widely used.
**********
The Eighteenth Richard C. Tolman Award Meeting
Wednesday, April 12, 1978
USC Faculty Club
USC Campus, Los Angeles, CA

1977 Tolman Award Recipient
Sidney W. Benson
Professor of Chemistry
University of Southern California
The Citation: In recognition for his notable contributions to experimental and theoretical determination of thermodynamic properties of gas phase compounds, to the field of gas phase kinetics, and to the chemistry and photochemistry of the atmosphere.
Award Address: "Thermochemical Kinetics – Working Tool for the Laboratory Chemist"
Abstract: Thermochemistry started as an infant science in the last century with potentially great vistas for the chemist. It is capable of yielding the equilibrium constant for any elementary chemical reaction under any experimental conditions. This capability has in the past never realized to any significant extent because of the lack of necessary data.
In the past two decades, empirical developments have filled this gap for most gas phase equilibria and recent advances suggest that extension to not-too-polar solvents can be made.
A similar development has been in progress for some time on gas phase reaction kinetics and it seems reasonable to anticipate that extensions to molecular and radical reactions in solution are possible. The current status of these developments will be described.
**********
Dr. Sidney Benson passed away on December 30, 2012 at his home in Brentwood, CA. He was 93. FOr more information on his life and obituary, please see the USC Dornsife.