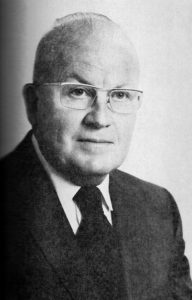 1971 Richard C. Tolman Award Recipient
Dr. Rowland C. Hansford
Research Consultant
Union Oil Company of California
The twelfth recipient of the Richard C. Tolman Medal will be honored for his many creative contributions to the science of catalysis, for his contributions to several important commercial processes in petroleum refining, and for his leadership and dedication to the profession of chemistry.
Rowland Curtis Hansford was educated at Davis and Elkins College (B.S. 1933) and the George Washington University (M.A. 1937). His alma mater awarded him an honorary D.Sc. degree in 1971 in recognition of his research in the field of catalysis. His professional career has included 15 years with Mobil Oil Corporation and 20 years with Union Oil Company of California, where he is now Research Consultant. He has contributed to the development of new commercial catalysts for catalytic cracking, reforming, hydrocracking and hydrogenation. His early work led to the elucidation of the mechanism of catalytic cracking in terms of the carbonium ion theory. He has engaged in research on crystalline molecular sieve zeolite catalysts, the dispersion of supported noble metals by chemisorption methods, the hydrogenation of aromatics in solvents to meet APCD Rule 66 and in turbine fuels to improve burning qualities, and the development of catalysts for control of emissions from automobile exhaust.
Dr. Hansford is the author or co-author of some 50 patents and 20 technical publications. He has been a member of the ACS since 1937 and served as Chairman of the South Jersey Section in 1946. He was a founding member and President both of the Philadelphia Catalysis Club and of the California Catalysis Society. He was Chairman of the Gordon Research Conference on Catalysis in 1952. He is a Fellow of the A.A.A.S. and a member of the International Congress on Catalysis, the Catalysis Society of North America, Alpha Chi Sigma, and Sigma Xi.
**********
1971 Tolman Award Recipient
Dr. Rowland C. Hansford

Twelfth Richard C. Tolman Award Meeting including
A Symposium on Catalysis and Pollution Control and A Talk by
ACS President-Elect Alan C. Nixon

Wednesday, April 19, 1972
Los Angeles Hilton Hotel


930 Wilshire Blvd.
Los Angeles, CA

Award Address: Catalysis in Environmental Control
Abstract: Atmospheric contamination from man-made sources can conveniently be divided into two classifications: emissions from the processing of materials we use, and emissions from the use of these materials. The technology for control of the first class of pollution is now well advanced and it is mostly a matter of building (and financing) the necessary processing plants to accomplish this. The control of emissions from the use of materials is considerably more complicated, largely because of the decentralization of these sources. However, technology is also lacking in some important areas, such as control of the emission of oxides of nitrogen from stationary and mobile power sources. But current research is rapidly filling this gap.
The role of catalysis in the control of atmospheric pollution from major man-made sources will be discussed, with emphasis on what has already been accomplished and what yet needs to be accomplished from a technological viewpoint.
Symposium on Catalysis and Pollution Control
Speaker: Dr. Vladimir Haensel
Vice President, Research
Universal Oil Products Company

Subject: Catalysis in the Petroleum Industry and Automotive Emission Control
Dr. Vladimir Haensel is a distinguished member of the chemical profession, having made significant contributions to catalysis and the petroleum industry. His varied and outstanding career started with a Ph.D. from Northwestern University in 1941. Dr. Haensel is best known for his contribution to the development of the "Platforming" process for the upgrading of straight run gasoline. His contributions to science and technology have been recognized by the Chicago Union Chamber of Commerce Award (1944), the Precision Scientific Company Award for Achievement in Petroleum Chemistry (1952), an honorary degree of Doctor of Science from Northwestern University (1957), the Professional Progress Award of the American Institute of Chemical Engineers (1957), the American Chemical Society Award in Industrial and Engineering Chemistry (1964), the Modern Pioneer Medal in Creative Chemistry (1965), and the Perkin Medal for outstanding work in Applied Chemistry (1967). He was elected a member of the National Academy of science on April 27, 1971.
Abstract: Catalysis will be discussed in terms of its basic concepts, relevance, and industrial applications, particularly with respect to its use in the petroleum industry and automotive emission control.
Speaker: Dr. Paul H. Emmett
Professor Emeritus
Portland State University

Subject: Catalytic Synthesis of Ammonia – Past, Present and Future
It is especially fitting that Professor Emmett be part of this Symposium because he earned his Ph.D. at Caltech in the 1920's and studied under Dr. Richard C. Tolman. Dr. Emmett is considered to be the dean of American catalytic chemists as a result of a long and distinguished career. He achieved fame early for his work at the Fixed Nitrogen Research Laboratory where Dr. Tolman was Director from 1918 to 1922. This work of Dr. Emmett's led to the famous BET method of measuring the surface area of solids. From 1955 to 1971, Professor Emmett held the distinguished W. R. Grace Chair of Chemistry at Johns Hopkins University. He is a member of the National Academy of Science and has received international recognition through many awards and honorary degrees.
Abstract: There has been a resurgence of interest in the catalytic behavior of ammonia because of the part it plays during the removal of nitric oxides in automobile exhausts. In Japan, the recent development of a new non-ferrous ammonia catalyst now gives promise of being several times as active as our best iron catalysts. This significant development may open an entirely new pathway for the catalytic synthesis of ammonia.
Address by ACS President-Elect
Alan C. Nixon
The Southern California Section is especially pleased to have Dr. Alan C. Nixon honor us and the Tolman Award recipient by attending the Symposium. He will discuss the vitally important issues now facing the American Chemical Society.
Social Hour: The reception will be hosted by Union Oil Company of California
Reservations: Please mail your check for $8.50 per person to American Chemical Society, 1540 N. Hudson Avenue, Los Angeles, 90028, so it will arrive no later than April 17, 1972. If you cannot send your check in time, phone your reservation to Betty at (213) a469-7278, before noon, April 17.
Reservations are necessary because the hotel will accept only a few last minute dinners, and at a 50 cent premium.
Non-members and guests are welcome. Bring your spouse. If you do not wish to attend the dinner, you are welcome to attend the symposium and/or the award meeting at no cost.